Wolf (Lambert the Sheepish Lion)
Talk

0
1,678pages on
this wiki

✔



Click To Help Ursula!

You Poor Unfortunate Soul, this "Wolf (Lambert the Sheepish Lion),"
has been found to need Ursula's Touch.
IT MUST BE REWRITTEN OR ADDED, TOO!!
So says Ursula:
the true queen of Atlantica.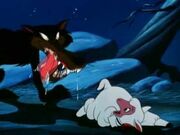 The Wolf is a main villain from 1951 short "Lambert the Sheepish Lion". he's almost like the wolf from "peter and the wolf", only darker. he tried to eat lambert's mama. lambert was scared of the wolf, until something snapped inside him. he was now brave, and knocked the wolf down. but, don't worry about that hungry wolf. he won't starve, because the bush he was hanging on has berries every spring.