Want and Ignorance are 2 street urchin spirits that show up in The Ghost of Christmas Present segment in A Christmas Carol.
They initially look timid inside the robes, but then they start snarling at Ebenezer Scrooge, warning him that they are ruthless.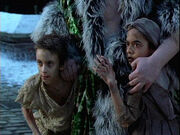 Ignorance is a boy who is shown to grow up to become a dangerous criminal
[[Image:|300px]]
Want and Ignorance
Background information
Feature films
A Christmas Carol
Television programs
Video games
Park attractions
Actor
Actress
Animators
Voice
Performance model
Designer
Inspiration
Various Dickensian street urchins.
Awards
Character information
Other names
Ignorance and Want
Personality
Wretched, sinister
Appearance
Two scruffy looking children wearing second hand clothes
Occupation
Criminal (Ignorance)

Prostitute (Want)

Alignment
Alignment
Affiliations
Goal
Home
Friends
Enemies
Ebenezer Scrooge
Minions
Likes
Dislikes
Powers and abilities
Weapons
Knife
Fate
Ignorance grows up to be a ruthess criminal, only to be put behind bars. Want grows up to be a prostitute only to be then strapped into a straightjacket. Both disapear along with The Ghost of Christmas Present.
Typical Saying
"Are there no prisons?" (Ignorance)

"Are there no workhouses?" (Want)
[Source]
.
Want is a girl who is shown to grow up to become a prostitute to earn money.



Click To Help Maleficent

"Listen well, all of you!", "Want and Ignorance,"
is nothing more than an insignificant stub.
It is in desperate need of more content.
So says Maleficent:
the Mistress of All Evil.