Vanessa
Talk

0
1,364pages on
this wiki
Vanessa
Background information
Feature films
'The Little Mermaid
Television programs
House of Mouse
Video games
Kingdom Hearts II
Park attractions
Actor
Actress
Animators
Nik Ranieri

Chris Baily

Voice
Jodi Benson

Mayumi Suzuki (Japanese)

Performance model
Designer
Inspiration
Awards
Character information
Other names
Personality
Sadistic, Flirtatious
Appearance
a beautiful woman with brown/black hair, purple eyes, very thin wrists, a split hairdo, and an hourglass waist; in other words, an almost identical appearance to Ariel
Occupation
alter-ego
Affiliations
Goal
ruin Ariel's hopes of becoming human by marrying Prince Eric
Home
The Black Coral Reef
Friends
Ursula, Jafar, Scar, Hades, Evil Queen, Maleficent, Judge Claude Frollo, Chernabog
Enemies
Prince Eric, Max the Sheepdog
Minions
Likes
defeating Ariel
Dislikes
Powers and abilities
mind control through song
Weapons
Fate
on the third day stay as her self.
Typical Saying
"Soon I'll have that little mermaid and the ocean will be mine!"
[Source]
Vanessa is Ursula's alter ego from The Little Mermaid. Vanessa is a beautiful and sexy human woman who tried to marry Prince Eric. She had pale skin, big doe eyes, high-plucked eyebrows, long wavy dark hair, big high perky breasts, a firm round butt, wide hips, slim waist, and a tight vagina.
The Little Mermaid
Edit
Vanessa apears in the film as Ursula's stop-gap plan to prevent Ariel and Eric from kissing. Immediately after disrupting their romantic boat-ride, she transforms into Vanessa, wearing a sexy summer gown held up by shoulder straps, with a deeply slashed corset, laced up at the bodice and a tight waistline and narrow skirt. The shell necklace dangles securely in her cleavage, and she sings confidently, Ariel's voice inside the shell magically hypnotizing Prince Eric, who, upon hearing a mysterious woman singing on the beach, lingers trying to see who she is. It is too dark for him to see any details but the glowing necklace which he squints at (ironically staring at her boobs the whole time). Vanessa walks forward across the beach, waiting for the spell to take effect, as the wind blows her hair and skirt around adding to her air of mystique and seduction. 
The next morning Scuttle wakes up Ariel and Sebastian and tells them that Eric is getting married, assuming that the bride is Ariel. Ariel rushes happily from the room, pausing only to fluff her hair sligtly, only to come to a dead stop on the stairs as she hears Grimsby talking to Eric. Hiding behind a pillar she peeks her head out to see a good-looking dark-haried young woman wearing a tight dress hanging off of Eric's arm. From this distance she can see the dark-haired girl glding a finger on Eric's chest and standing in away that leans one hip on his leg and leaves her vagina  just off of Eric's thigh. She cannot see the shell necklace in the woman's cleavage though, so the deception continues. Vanessa clings docilely to Eric's side while Grimsby congratulates the couple, although he seems uncertain about the wedding. Unable to bear more the intimate scene, Ariel rushes off sobbing into her hands. Vanessa watches her run over Eric's shoulder before discreetly turning her attention back to Eric who is standing completely still with a glazed expression on his face and cuddes up against him rubbing one of her boobs on his arm. From the way her torso is readjusted she is also all but certainly rubbing her vagina on his leg. She glances smirkingly at her shell necklace as she does so and laughes quietly to herself as she runs her fingers against the necklace. For a brief moment the shell glows golden.
Later that afternoon the elegant wedding ship has already departed leaving Ariel to cry at the harbor. Vanessa sings melodiously in satisfaction with her schemes and twirls around her dressing cabin in her more revealing slip, seemingly admiring herself in the mirror. First she fluffs her hair then spins back around and dances back to the mirror, lifting her skirt to climb up to the mirror.  Unbeknownst to her, Scuttle spies on her as she does so and recognizes Ursula's reflection in the mirror. He flies off in a panic to tell Ariel about the scheme and is assigned to stall the wedding. He gathers a group of sea animals to converge on the wedding ship.
Eric and Vanessa march down the wedding aisle arm-in-arm. She is wearing a dress so tight that just walking in it makes her boobs bounce. Hearing Max growl at her, Vanessa scowls at him and kicks his face in passing, but nobody notices. The two come to a halt at the minister who begins the ceremony, but slowly. He comes to the vows just as the sun touches the horizon. Vanessa smirks at the sun and prepares to accept her victory. She turns back to the ceremony as the priest asks Eric's vows, and the turn brushes her breast slightly against his arm. She leans her hip on his leg and he says "I Do" but then she hears squawking behind her. Scuttle's animals destroy the wedding: Birds dive at her head making her drop her flowers as she screams and come back diving through her skirt while she is forced thrust her hips back and forth like she's humping to not fall down. Her vagina is flashed at the same time. Pelican's drop water on her soaking her whole body but mostly her face dress and hair. Her dress sticks to her bouncing boobs and the pelicans also drop dead fish and lobsters on her. One lobster pinches her nose hard making her scream with her boobs and vagina thrust forward in the air. Then starfish land all over her slapping her boobs and her screaming mouth. Though she is seen only from the waist up there are so many starfish and her face is so shocked that there is one slapped across her vagina too. She starts peeling off the starfish and screams at them before seals start boucning her up and down on her butt with her dress flying open. They eventually throw her on the wedding cake which she lands on wide-legged so cake smears on her vagina as well as the rest of her. When she stands up dolphins spit on her washing away all the cake except what's in her dress, the cake crumbs being gooily stuck against her vagina while the melted icing, not being able to be just washed away, is dripping off of her vagina. She is also humilated because now the entire dress is soaked and is sticking to her vagina and butt, not just her boobs. Scuttle screams at her making her arch her boobs forward, but then she tries to strangle him. He grabs her necklace and kicks her face bouncing her boobs a good bit before Max the dog suddenly runs up behind her and bites her hard on her butt. The bite is so wide that he bites her on her vagina too. She screams her head off and Scuttle snaps the necklace bouncing her boobs one last time.  The necklace snaps off her neck at the last and she loses Ariel's voice, most of her beauty, and Eric's hypnosis fades after which he promptly ignores her. Vanessa is ultimately successful because the sun goes down before Ariel and Eric can kiss. Cackling, she reverts back into Ursula.
House of Mouse
Edit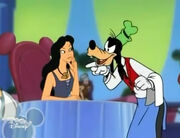 Ursula briefly appeared as Vanessa once on House of Mouse in the episode "House of Crime". Goofy interrogates her, asking if she has seen any disguised villains. She pretentiously answers no, and then transforms back into Ursula when Goofy leaves her table.
.