✔



Click To Help Ursula!

You Poor Unfortunate Soul, this "Sykes (Inspector Gadget),"
has been found to need Ursula's Touch.
It MUST be rewritten, see the light, and make a switch!!
So says Ursula:
the true queen of Atlantica.



Click To Help Maleficent

"Listen well, all of you!", "Sykes (Inspector Gadget),"
is nothing more than an insignificant stub.
It is in desperate need of more content.
So says Maleficent:
the Mistress of All Evil.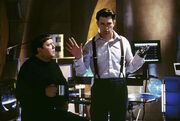 Sykes is the (former) tertiary antagonist of Inspector Gadget. He is one of Dr. Claw's henchmen.
Sykes helps Claw steel the foot, but at the end of the film, Penny redeems him. Sykes returns the foot to Chief Quimby and starts leading the Minion Recovery Group.
Sykes was once rumored to be the main villain, but this is, of course, not true as Claw is the real villain.
Coming soon!