✔



Click To Help Ursula!

You Poor Unfortunate Soul, this "Silver's Pirates,"
has been found to need Ursula's Touch.
It MUST be rewritten, see the light, and make a switch!!
So says Ursula:
the true queen of Atlantica.



Click To Help Maleficent

"Listen well, all of you!", "Silver's Pirates,"
is nothing more than an insignificant stub.
It is in desperate need of more content.
So says Maleficent:
the Mistress of All Evil.
Silver's Pirates are the tertiary antagonists in Treasure Planet 2002 film. They are minions of John Silver.
Some of the members of the pirate crew are Onus (the ship's lookout), Mr. Turnbuckle (the helmsman), and Birdbrain Mary (the only apparent female of the crew). Many of the crewmembers' names are not spoken throughout the film.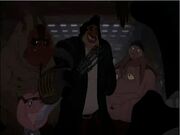 They are first seen aboard the R.L.S. Legacy acting as a sailing crew, hired by Doctor Doppler, but secretly taking orders from John Silver. Jim's suspision of the crew begins to heighten when he eavesdrops on a group of some crewmembers talking together (presumably about the plan for mutiny). While Jim is swabbing the deck, after his confrontation with Silver's lieutenant, Scroop, it is made clear to the audience that Silver is the real captain of the crew and not simply the ship's cook as he chastised his minions for being too antsy.
In the supernova / black hole scene of the movie, the crew is seen battering flaming asteroids with the ship's cannons and taking Captain Amelia and Mr. Arrow's orders to steer the ship away from danger.
When Treasure Planet is in their sights, the pirates and Silver mutiny their captain (costing the lives of some pirates) and search for the treasure. They find the the treasure with the unwilling help of Jim Hawkins, after he defeats Mr. Scroop on the ship. Their luck changes when Flint's booby-trap is activated and some of the alien pirates are killed. The few who survive are tied up aboard the ship. However, despite being arrested, the surviving pirates cheer as the heroes finally steered them away from the exploding planet, relieved that they are still alive.
These include all of the members of Silver's crew. Some of them talk and have their names revealed in the film, but others are revealed on websites.
Survivors
Edit
Crew members who survived.
Crew members who died.
Ambiguous
Edit
Crew members who's fates aren't revealed. They have mysteriously vanished for the rest of the film.
"We're all clear, Captain!"
"With pleasure, Captain!"
"We are going to need a bigger boat!"
"We were better off on exploding planet!"
"Land ho!"
"There it is! Feast eyes and click heels, if you got 'em!"
"I see nothing! One great, big, stinking hunk of NOTHING!"
Turnbuckle
Edit
Birdbrain Mary
Edit
"Slice him! Dice him!"
"What?!"
"Look, all I'm saying is, we're sick of all this waiting!"
"Watch it, twerp!"
"There's only three of them left."
"Cabin Boys should learn to mind their own business".
"I say we kill them all NOW!!!."
"Cabin boy"
"TRANSPARENTLY!".
Oxy and Moron
Edit
Oxy: "What are you looking at, weirdo?"
Moron: "Yeah, weirdo?!"
"I pummel you good!"
"Yeah, baby! BA-BOOM! HA-HA-HA!"
"We are wanting to move!"
Schwartzkopf
Edit
"Thanks for showing us the way in, boy!"
"Where is it?!"
Ad blocker interference detected!
Wikia is a free-to-use site that makes money from advertising. We have a modified experience for viewers using ad blockers

Wikia is not accessible if you've made further modifications. Remove the custom ad blocker rule(s) and the page will load as expected.