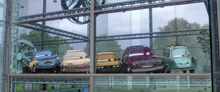 The Other Lemon Thugs are the teritary villains in Cars 2. They work for Miles Axlerod. They are really the henchmen of him. Their goal is to capture Mater before he escapes. It consists of Zaporzhets Yugos Pacers Gremlins And a Zundapp Janus the leader near the end of the film they were all defeated by the Radiator Springs gang.
Ad blocker interference detected!
Wikia is a free-to-use site that makes money from advertising. We have a modified experience for viewers using ad blockers

Wikia is not accessible if you've made further modifications. Remove the custom ad blocker rule(s) and the page will load as expected.