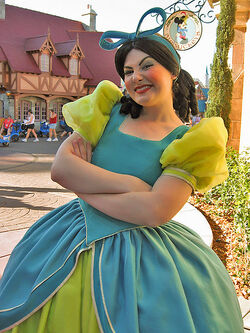 Drizella is the secondary antagonist in all three Cinderella movies and Mickey's House of Villains. She is the biological eldest daughter of the evil Lady Tremaine, Cinderella's stepmother and the biological older sister Anastasia Tremaine.
Drizella is around the same age as Anastasia and Cinderella. She is shown to be much worse than her biological younger sister Anastasia herself.
She is known for jumping to conclusions, such as in the scene where Cinderella is blamed for putting a mouse on Anastasia's breakfast tray.
Drizella is later seen trying to sing, and does so off-key while her biological younger sister Anastasia plays the flute and Lady Tremaine plays piano.
Drizella, Anastasia, and their biological mother Lady Tremaine are invited to the royal ball by the king.
Lady Tremaine bargains with Cinderella by saying that if she does all her chores given to her in time and if she can find something to wear, she can go to the royal ball. Drizella and her biological younger sister Anastasia realize that their biological mother Lady Tremaine does tend to make sure that Cinderella does not make it there. They all give Cinderella numerous chores. The friendly mice of Cinderella's make a dress while Cinderella gets her chores done. Lady Tremaine prompts their biological daughters to tear Cinderella's dress so she's does not make it to the ball yet. The Fairy Godmother helps her go to the ball, though. When Cinderella gets home, losing one of her glass slippers, the king wants the Prince to marry someone with it. Lady Tremaine tries to stop Cinderella by locking her in her room but fails. Drizella is rude to the royal shoemaker. Cinderella gets to try it on and marries the Prince.
Drizella appears in Cinderella 2: Dreams Come True as the minor villan. She is shown to be sassy, cruel, cold, hostile, and mean to her biological younger sister, Anastasia, who has reformed her evil ways. Drizella ends up leaving with her biological mother Lady Tremaine after she can't fall in love with anyone.
Drizella appears in Cinderella 3: A Twist In Time. She is a major villain. She is helping with Lady Tremaine's evil plan to get Anastasia married. Her plan is foiled, so when Lady Tremaine got angry with her biological youngest daughter Anastasia, Drizella suggested her biological mother to turn her and Cinderella into toads/frogs, but only for the prince to deflect the spell with his sword and turn Lady both Tremaine and Drizella into toads/frogs instead. Later, they both changed back into their human forms, but as a cruel punishment for their wicked ways, She and her biological mother Lady Tremaine have to become servants in the palace forever.
Ad blocker interference detected!
Wikia is a free-to-use site that makes money from advertising. We have a modified experience for viewers using ad blockers

Wikia is not accessible if you've made further modifications. Remove the custom ad blocker rule(s) and the page will load as expected.