Aunt Spiker and Sponge
Talk

0
1,678pages on
this wiki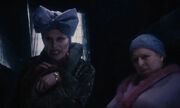 Aunt Spiker and Sponge
are the main antagonists in
James and the Giant Peach.
They adopted James after his parents were eaten by a
rhinoceros
and are very abusive and treat him like a slave, forcing him to do hard labor and feeding him fish heads. Aunt Sponge is fat, loud and repulsive whilst Aunt Spiker is thin, quiet and cold. Both have a terrible hatred of insects and bugs and kill them in awful ways, and are thus hated by them as well.
Sometime later, Spiker and Sponge discover a peach on a withered old tree, and it grows to immense proportions. Spiker and Sponge use the giant peach as an attraction, making lots of money as James watches from the house, not allowed to leave. That night, Spiker and Sponge send James outside to pick up the garbage.
Later, when James escapes on the giant peach, he is followed by his two persistent aunts all the way to New York, where they try to convince the authorities that James is a liar and that he be released to them. However, James, now no longer afraid of his cruel aunts, stands up to them and reveals the truth about their horrible treatment of him. He then ties them up with Miss Spider's thread, and the police take them away.
In the book, Spiker and Sponge are both crushed to death by the Giant Peach. In the 1996 film, they survive and pursue James to New York City in their car (in the Ice World, James and Miss Spider see a shipwreck with figureheads, having a terrible resemblance of the two aunts). Upon arriving in New York, both are soaked as if they had been swimming through the sea.